Engineered Wood
What's in today's home furnishings?
More and more, the answer is Engineered Wood (MDF, not particleboard, see below for the difference). It has become the material of choice for many of the finest furniture and cabinet manufacturers.
Here's why:Quality:
Today's Engineered Wood is produced under stringent manufacturing standards using precisely refined wood fiber, ultrastrong adhesives, under great heat & pressure to make "Furniture-Grade" Medium Density Fiberboard (MDF).
Combinations:
Engineered Wood and solid wood are often combined to work together, taking advantage of the unique qualities of each to create beautiful and durable results superior to solid wood construction in many ways.
MDF Oak Veneer Kitchen Cabinetry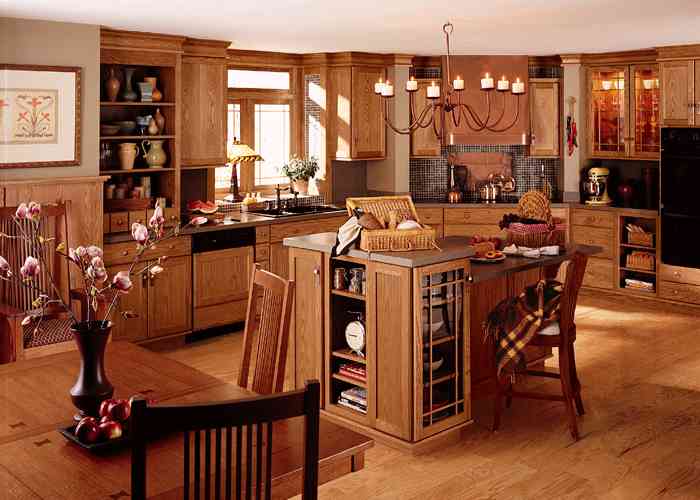 Durability:
Engineered Wood provides consistent, uniform strength. It is highly resistant to warping, cracking and splitting, whereas solid wood can have voids, knots, and other imperfections that can't meet this requirement. High performance standards make Engineered Wood a superior choice for most furniture, cabinet and architectural applications.

Value:
Thanks to advanced technology, precise engineering and the efficient use of wood fiber, Engineered Wood furnishings usually cost less than their solid wood counterparts. That means materials that perform beautifully, at a price consumers can afford.

Style:
Okay, so it's well made, but how does it look? Consumers expect visual style and appeal. A smooth, flawless surface is critical for today's decorative veneers and laminates, and only the face of an Engineered Wood panel meets these requirements. Stylish curves, arches, embossing and trim were once only possible with solid wood. Today's versatile Engineered Wood can do all these things as well or better.


MDF Mahogany Veneer Kitchen Cabinetry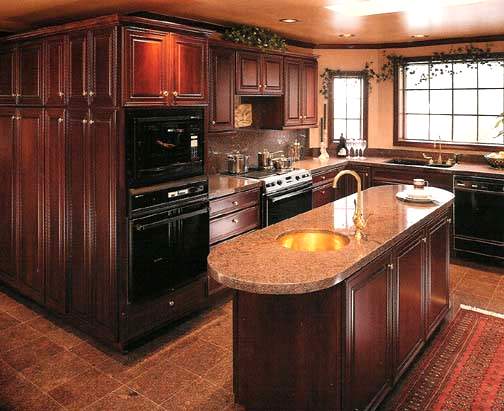 Environment:
Much of the furniture today is made of environmentally friendly engineered wood, which is a combination of bonded high-quality hardwood and soft wood materials that are applied to high heat and pressure. The result is dense, strong boards.

Construction:
Today's furniture uses engineered woods, including plywoods & fiberboards. Fiberboard is created by breaking down wood chips into fibers and mixing these with an ultra-strong adhesive. When fused under intense heat and pressure, the resulting panel has consistent, uniform strength is resistant to warping, cracking and splitting and has no knots or other surface imperfections as other woods have.


MDF HPL Furniture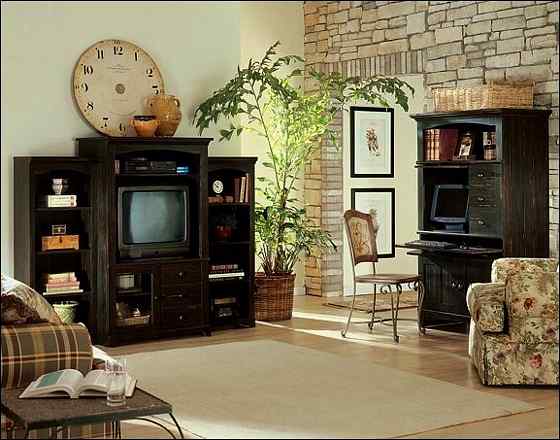 HPLs - High Pressure Laminates:
On top of this engineered wood may be a wood veneer or a laminate. Laminates are normally made of Melamine or engraved to look like real wood.

MDF - Multiple Density Fiberboard:
MDF is not the same as inexpensive poor quality "Particleboard". MDF is subjected to greater pressure during manufacture than Particleboard, therefore the edges will be smooth and there will be no interior cavities. MDF has a much higher resin to wood ratio than Particleboard & uses only a certain fine quality of wood fiber, versus Particleboard that uses any & all leftover unwanted particles. Thus, this product has up to 10 times (10x) greater strength than Particleboard. As an example, MDF is used in kitchen cabinetry & can have moldings & details routed directly into the wood.

MDF is more durable than traditional solid softwoods such as Pine, it is more resistant to dents and dings.

Environmentally Friendly:
Engineered Wood products are natural, organic, recyclable, and renewable. By choosing MDF, you support the recovery and recycling of millions of tons of wood chips, shavings, sawdust, and even post-consumer and "urban wood" like pallets and construction waste every year.

MDF Construction:
The combination of 92% wood and 8% resin, on average, is formed into long thick mats, which are then compressed under intense heat and pressure. Progress at each stage is closely monitored by computers, which can measure the slightest variations that even the human eye cannot detect.

The resulting wood panels are laboratory-tested for uniformity, strength, screw retention and other structural qualities, as required to meet the stringent American National Standards Institute standard for furniture and cabinet grade wood panel products.

Glued Engineered Wood Products (GEWPs) are manufactured by bonding together wood strands, veneers, lumber or other forms of wood fiber to produce a larger composite material. Engineered Wood represents the culmination of centuries of forestry (and wood-working) knowledge, modern technology, and efficient use of our natural resources.

---


references:

(1) Furniture World Magazine

(2) http://www.furninfo.com/

(3) New Zealand's Economic Development Agency

(4) Department of Forestry - Australian National University

(5) http://www.wisegeek.com/what-is-mdf.htm

(6) European Panel Federation - http://www.mdf-info.org/